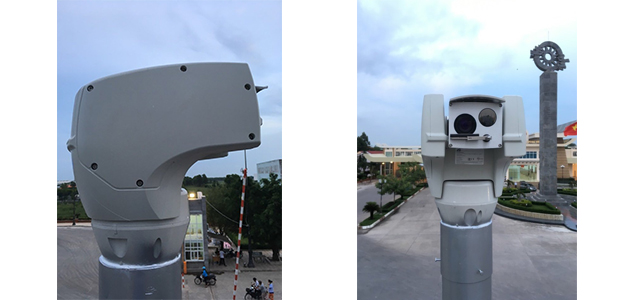 Mission:
The Border Defence Force in the Vietnamese province of Tây Ninh wanted to enhance the video surveillance system at the Mộc Bài and Xa Mát national border gates, with the following goals:
– Making clear, constant recordings of general activities at the border gates.
– Recording all vehicles that enter and exit the border gates.
– Warning staff of potential threats.
– Offering excellent recording performance in a range of environmental conditions: day, night, rain, storms.
Solution:
An ideal solution was provided by the Ulisse Compact Thermal PTZ camera by Videotec, which guarantees reliable non-stop day and night monitoring of outdoor areas. The PTZ contains a visual camera and a thermal camera, which are aligned to provide day/night and thermal images at the same time.
The UCT visible camera provides impeccable high resolution colour images, while the thermal unit detects the heat given off by objects so that it is possible to see even in total darkness and distinguish events and presences even in adverse environmental conditions.
Result and comments:
The feedback from the client after installation was very positive:
"The Videotec cameras have proved capable of offering outstanding performance and video quality that satisfied the needs of the security managers of the Tây Ninh Border Defence Force.
The PTZ ULISSE COMPACT THERMAL cameras offer significant practical benefits during checks on the people and vehicles crossing the border by day and by night, thus helping to guarantee maximum security for the site."
Go to the product page of ULISSE COMPACT THERMAL